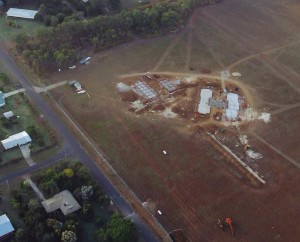 Catholic Education in Mareeba dates back to 1909 when four Sisters of Mercy arrived to open Good Counsel primary school. This name was retained until the early 1950s when the school was renamed St Thomas' after the patron saint of the parish, St Thomas of Villanova.
Enrolments at St Thomas' grew steadily over the decades that followed, and the community began to consider the possibility of a Catholic high school. Towards the end of the 1980s, the search for a suitable site began, and in 1991, the land on which St Stephen's Catholic College now stands was purchased.
In June 1998, a report compiled by Herron Todd White recommended the opening of a Catholic secondary school in Mareeba. A process of public consultation followed, and a Catholic Education Services report in September 2000 concluded that the Diocese could begin evaluating the new school proposal. During 2001 and 2002, a further study was undertaken to explore the possibility of a co-institutional arrangement with Education Queensland for the provision of secondary education in Mareeba. The results of this investigation were inconclusive, and the Diocese and Education Queensland decided not to pursue the matter.
With the demise of the co-institutional project, the Diocesan Education Board of Governance gave its approval for the establishment of a Catholic secondary college in Mareeba, and a planning application was submitted to the Office of Non-State Schooling in October 2002. Shortly afterwards, an application for a change of land use was submitted to the Mareeba Shire Council, and an application for capital funding was forwarded to the State Government.
By the end of 2004, all the necessary approvals had been gained. In February 2005, an interim College Board was formed with Mr David Anthony as chair. The following month Mr Gerard Simon was appointed as the Foundation Principal, and in April, the school was named St Stephen's Catholic College. Construction work began on the site in June to be ready for the first intake of year 8 students in January 2006.