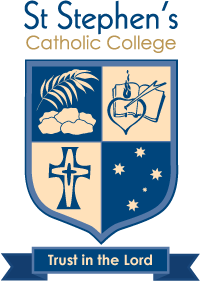 The beige and royal blue college crest contains four panels displaying symbols significant to the life and mission of St Stephen's Catholic College.
The palm branch and stones are symbolic of the calling and challenge to follow St Stephen in being people of deep faith. We are reminded of the importance of being faithful to our beliefs and making Christ real in our Tablelands community, particularly amongst the poor.
The emblem of the Order of St Augustine is a flaming heart pierced by an arrow on the background of an open book. The open book suggests a dedication to intellectual search and study, both divine and earthly. The 'flaming heart' is indicative of Augustine's great personal charity; his love of God and others and reminds us of the importance of being charitable and loving. The arrow piercing the heart and the book represents the Spirit of God piercing our minds and hearts and calling us to continue growing in faith, hope and love.
The Mercy Cross challenges us to a deeper awareness of the Cross in God's plan of redemption. The presence of the Cross also reminds us of God's love for each of us and his forgiveness. Without the cross the real crown cannot come.
The Southern Cross is a significant national symbol found on our Australian Flag. This symbol unites us with other Australians and is regarded as a symbol of freedom from oppression and seeking for justice. It is also a symbol of hope and a direction in the night sky for those who journey.
The symbols combine to create a College Crest that is a powerful sign of our Mission as a Catholic School to first and foremost be people of hope and vision who reveal the love and reality of God our Father to the Tablelands Community. The college is a community of parents, students and staff who give witness to the love and forgiveness of God our Father. We are called to use our education and giftedness to further the reality of God in our world.
The 'College Motto'- Trust in the Lord
The college motto prays the words so prominent throughout the New Testament and spoken by many Christians through the ages. To 'Trust in the Lord' is to put God above all things.
To trust in the Lord requires us to let go of what is not important.
To Trust in the Lord is to recognise that St Stephen was faithful to the Lord to the point of his own death.
To Trust in the Lord is to believe in the ultimate reign of God and be prepared to work towards this.