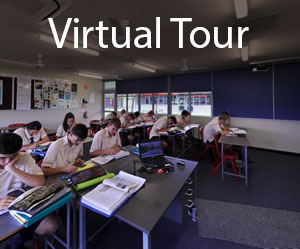 All areas of the College are bright, appropriately furnished and have data and wireless connections, good display areas and a physical structure that promotes both individual and collaborative learning styles.
There is access to computers via three computer laboratories and lap-top use through a booking system, as well as 1:1 devices for years seven and ten.
Students have access to a 400 metre running track and sports area, a rugby league and a soccer field, a cricket pitch and indoor /outdoor netball and basketball facilities, two handball courts and an outdoor gym.
All students are issued a locker in which they store their personal belongings. Students carry their books for two lessons. Students are required to purchase a combination lock (through the college) and keep their combination confidential. Such a procedure maintains security for student belongings and encourages students to develop organisational skills.
The students purchase their lunch and morning tea through the self-serve school tuckshop which operates five days per week. The college endeavours to maintain a policy of 'healthy foods' for students and staff.
Specialist areas include:
Language and four science laboratories
Trade Training Centre
Performing Arts Centre (Music and Drama)
Hospitality
Visual Art
Robotics