Our NYSF Experience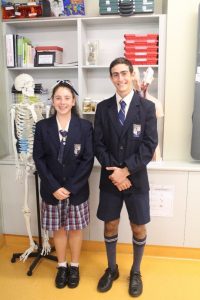 In 2017, we were both fortunate enough to be selected by Rotary to attend the National Youth Science Forum (NYSF) in January 2018. The NYSF is a twelve day program in Canberra held at the Australian National University (ANU), where we were able to live on campus and completely immerse ourselves in STEM laboratory visits, lectures from renowned scientists, learning about year twelve and university life, and tours around the campus facilities.
Dylan's Story: I expected to arrive at the Australian National University to a scene of 200 incredibly bright students and go with them to some lectures about 'science' things, see some fancy laboratories and maybe even come to a decision about what I want to do when I leave school. My expectations were completely thrown out the window when I got to the NYSF. We were all given name tags called wouches; a pouch with a wow factor they told us. This was a life saver because learning 200 people's names is quite the challenge. It also made starting a conversation and making lots of new friends easier. I should probably add a disclaimer here because we, the NYSF Alumni, were sworn to secrecy to preserve the experience of future NYSFers, so I cannot give you the finer details. Instead, I will tell you about my favourite part of my experience. Although I was placed in a physics interest group, every student got to see the Australian War Memorial.
This visit spoke to me the most, not just because of the fantastic advancement in warfare technology tour we received, but because of the vast array of primary sources on display. It was just so fascinating to see all the artefacts and read the stories of men and women who have died for Australia since the early 1900's.
The experience was incredibly hard to describe in words. In closing, the NYSF was THE MOST amazing, fantastic, inspiring experience of my life and it has left me with plenty to think about this year. If you have an interest in Science, Technology, Engineering or Maths (STEM) and are in year eleven this year, I would strongly encourage you to apply to the NYSF because you will not regret attending.
Keeley's story: I was selected to be in the Ecology, Sustainability, and Environmental group with fourteen other STEM enthusiasts. One of my favourite laboratory visits, without giving too much away, was travelling to Canowindra to dig for trilobite fossils and learning what it takes to become a palaeontologist. The session was led by Alex Ritchie, who discovered the Gooloogongia loomesi fish fossils, believed to be 360-370 million years old. We also learnt the importance of vegetation on livestock sites and what are the biggest impacts to the erosion of soils.
I was also able to visit other areas of the university and interest groups through the STEM+ laboratory visits. Some of the things I learnt included the physics behind dancing; the "coldest Place" where Bose–Einstein condensate is made; and a lab tour around the quantum physics lab. Listening to so many humble scientists who are passionate about their work and research was truly inspiring. There was never a moment of relaxation as we were constantly kept on our toes by mind-boggling riddles or chants that the whole of Canberra could hear. Applying for NYSF was one of the most amazing things I have ever done and I'm so thankful for the experience as it has opened up an entire new world.
We both have gained so much from this experience like improving our public speaking skills, social skills, networking and the motivation to complete the tough year that is ahead of us. NYSF was truly life changing and we thank everyone who has helped us achieve this.